Still nothing about my Thanksgiving so I guess I'll jsut say that I made some good Black Bread rolls from the Bread Bible: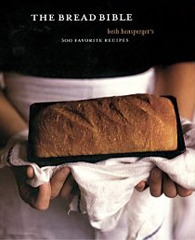 And to accompany my bread [which was said to be the ideal stew accompaniment but perhaps too dense for a dinner roll (one for two, I'm fine with that)] I had, among other things, some terrific Field Roast Celebration Loaf, which made excellent faux-after-Thanksgiving Sandwiches I might say, in place of the Turkey I do miss from time to time...
More recently however I made some delicious Buckwheat Carrot-Spice pancakes.
Vegan Buckwheat Cakes:
1 cup Buckwheat flower
1 tsp canola oil
1 cup water
2 tbsp soy milk (or the mammalian variety if you prefer)
2 tsp baking powder
1/2 tsp salt
2 large carrots, grated
Lots of ginger, cinnamon, and Garam Masala
2 tbsp raisin (I prefer golden myself)
Grate carrots and squeeze some of the water out with a paper towel
Combine dry ingredients then add the wet ingredients. Add in the carrots, spices, and raisins. Add water and milk to get the consistency just right (The carrots and buckwheat flower makes the batter a bit thick).
Cook them up and serve with some syrup, applesauce, preserves, or yogurt